Get your
"Mojo" back

with a MojoBagz
Bean Bag Chair or Bean Bag Sofa!

MojoBagz are the most stylish & comfortable foam filled bean bag chairs & bean bag sofas on the planet. Much like other Bean Bag Chairs, but IMPROVED! Our USA foam is fluffier & less dense than other foams, which makes it softer to the touch & it's not as lumpy as our competitor's foam, so you don't feel like you're sitting on rock shaped foam.
Shop Our Collection of MojoBagz Beanbag Chairs & Sofas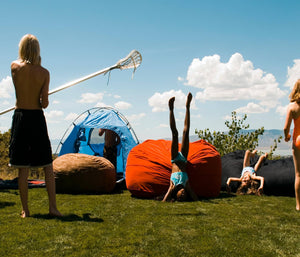 About MojoBagz
In business now for over 10 years, our mission is to provide comfortable alternative furniture at affordable prices. Our Bean Bag Chairs & Sofas not only look fantastic but will be the most comfortable chair you'll sit in. Your MojoBagz will soon become your favorite seat in the house.
The only problem will then be preventing the fights that will spawn from everyone wanting to sit in the MojoBagz. We offer a large selection of colors, fabrics, & sizes for you to choose from. Not to mention our covers are all machine washable, every bean bag comes with a liner included (not as common as you would think), plus a lifetime comfort guarantee.
We've Proudly made bagz for